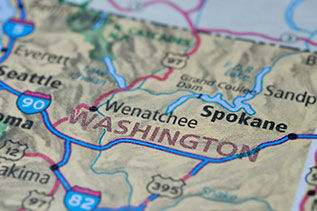 A Tour Through Washington Wine
$140 PER PACKAGE*
Jump in and hit the road with us on a virtual tour through Washington State. Stops will include the Chateau Ste. Michelle tasting room in Woodinville along with our favorite wine growing regions located East of the Cascades in the Columbia Valley. Learn about our world-class, award-winning vineyards and our history as Washington State's founding winery while enjoying great wines along the journey!
Package includes:
(3) 750ml Chateau Ste. Michelle and Eroica Wines:

Eroica Riesling, Columbia Valley
Cold Creek Vineyard Cabernet Sauvignon, Columbia Valley
Limited Release Canoe Ridge Estate Red Wine Blend, Horse Heaven Hills

Aroma Wheel

60-minute guided tasting with a Chateau Ste. Michelle Wine Educator
In addition to the inclusions listed, each guided tasting includes a tasting mat and a special 15% off coupon for each recipient to use on a future Chateau Ste. Michelle purchase.
Additional add-on options are available for all tastings:
Riedel Chateau Ste. Michelle Logo Glasses ($10 per glass per package)
Vacu Vin Wine Saver Pump ($13 per package)
Vacu Vin Wine Stoppers; Pack of 2 ($6.50 per package) - Vacu Vin Wine Saver Pump comes with 1 stopper included.
*Tax & shipping not included.
To organize your Virtual Wine Tasting, please contact us at 425-415-3247 or via email at virtualtasting@ste-michelle.com.