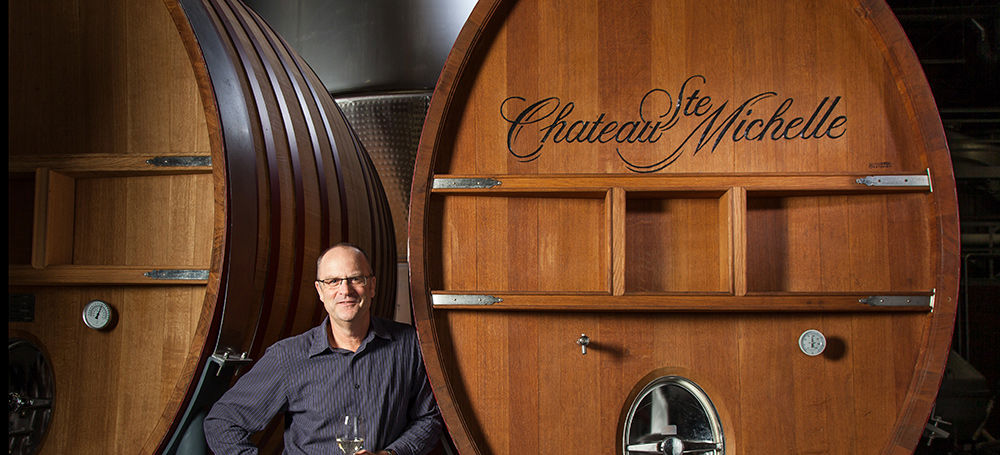 BOB BERTHEAU
HEAD WINEMAKER
"My goal is to use winemaking to bring out the natural varietal character and the regional expression in the wines."
"I am amazed at the difference in grape growing in Eastern Washington," says Bob. "We have such unique growing conditions here: low rainfall, extra sunshine during the growing season, cooler days at the end of harvest for longer hang time, and a pioneer spirit of the local growers and winemakers. These conditions help us grow world-class fruit and make wines of character, complexity and quality."
Bob has maintained Chateau Ste. Michelle's legacy of crafting awarding-winning Chardonnay, Riesling, Merlot and Cabernet Sauvignon, while putting his own signature on the wines. "I have learned from Ernst Loosen, our German winemaking partner on Eroica Riesling, how to protect fruit purity and produce fresh, fruit-driven Rieslings.
"For Chardonnay," Bob adds, "I'm using more Burgundian yeasts and have changed our lees stirring and oak regimes for better integration of oak flavors and more harmonious, soft Chardonnays. Washington's red varieties have great structure and intense fruit. My goal with the reds is to harness the tannins for more accessible red wines from Chateau Ste. Michelle."
Prior to joining Chateau Ste. Michelle, Bob made his mark at Hambrecht Vineyards and Wineries with their Belvedere and Bradford Mountain labels. In his formative years out of UC Davis, he gained valuable mentoring from such renowned winemakers as Bob Sessions at Hanzell Vineyards and David Ramey at Chalk Hill. Wanting to gain an even broader experience with a wide variety of grapes and viticulture areas, Bob also worked at Gallo of Sonoma for five years, helping to bring a smaller winery mentality to the larger facility.
For Bob, the move to Chateau Ste. Michelle in 2003 was not only the chance to make wine for one of Washington's most acclaimed wineries, it was a chance to come home. He was born in Seattle, went to school in nearby Idaho, and has most of his family living in the Seattle area. Bob has a degree in chemistry from Boise State University and an MS in food science and enology from University of California at Davis.